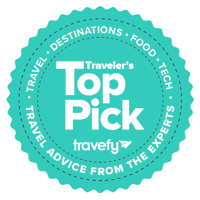 Expert recommendations on travel, destinations, food, tech and more.
Each week our experts put together one list of the best of the best of some of the top travel ideas and products out there.
The USA has an incredible festival history. We are after all the country that gave the world Woodstock and brought Tupac back to life. If you haven't visited one of the country's music festivals yet, make it happen this summer. Throw a tent in your trunk, stack up snacks, invite friends, and hit the road. Here are the top 10 music festivals taking place during the Summertime.
1. CMA Music Festival – Nashville, TN
For those who are a little bit country
The CMA Music Festival was all about country music, though it is slowly going mainstream. The lineup includes deep country performers as well as pop stars like Taylor Swift or Kelly Clarkson.  No one throws a great-outdoor party like country folks, and a country music festival is a unique experience you will never forget. So get in the spirit and put on your best cowboy hat and boots. You know you've always wanted to find a place to wear them.
2. Governor's Ball Music Festival – New York City, NY
For those who want to party like New Yorkers
A fish bowl like NYC doesn't seem roomy enough for a great American music festival. Luckily, there's Randall Island to give you a Big Apple feel without the constraints. Plus there's a boat ride; everybody loves a boat ride!
Artists from all genres come to this music festival. Be ready to listen to Kanye West, Kings of Leon, or Guns'n'Roses.
3. Bonnaroo – Manchester, TN
For all music tastes
Pitch the tent on the farm and don't mind the mud. The huge crowd attending this music festival, doesn't. After Coachella and Lollapalooza, Bonnaroo has the biggest US music festival. And that has a lot to do with the line up. Instead of focusing on one music genre or market, they create an amazing show for all. Paul McCartney, Mumford & Sons, or Bjork and Wilco all performed here.
4. Vans Warped Tour – Multiple Locations
For those who want to see extreme sports
The Vans Warped Tour is half music festival, half extreme sports event. And since it's a tour, it takes place in many cities throughout summer.  If you can't travel far to attend a music festival, just wait and hope the tour passes through a city near you.
5. Telluride Bluegrass Festival – Telluride, CO
For those who want stunning scenery
No need to be the biggest bluegrass fan to enjoy this music festival. It has everything: open spaces, mountain scenery, great acoustic music, and more. Check out performances from the String Cheese Incident, Feist or Mumford & Sons. Yup, they're here too.
6. Electric Daisy Carnival – Las Vegas, NV
For those who like electronic dance
The Electric Daisy Carnival wants to be an international music festival. Maybe that's why it also takes place in London and in many other places throughout the US. However, Sin City is best suited for electronic dance with the best DJs in the world, top performers, and the most insane crowds.
7. Lollapalooza – Chicago, IL
For those who want a legendary music festival
Legendary American summer music festivals, Lollapalooza has been rocking out since 1990. It enjoyed its golden days when it was THE rendezvous for "alternative rock" bands. Though it now mixes in pop artists with rock legends like Nine Inch Nails and the Cure.
8. Outside Lands – San Francisco, CA
For those who want good music as well as food, wine and beer
Forget the music festivals with drunken college kids and watered-down booze. Outside Lands is a great party with awesome food and drink. But it's not about excesses, just enjoying what is at hand. The line up at this San Francisco music festival is hard to beat. Any festival with Willie Nelson is okay by me.
9. Burning Man – Black Rock City, NV
For those who want to be out-of-this-world
More than a music festival, Burning Man is about art, freedom and self-reliance. It's one of those things you have to experience for yourself to fully understand. Expect all sorts of artistic performances from all types and sources. Try everything here, except the white pill the dude in a martian suit just handed you.
10. Made in America – Philadelphia, PA
For those who want Hova's touch
He's not a businessman, he's a business, man. More than a rapper, Jay-Z is one of the world's most-talented music producers. So when he created the Made In America hip hop music festival, few doubted it'd be a success.  MIA brings together the best in the game to Philly. This newcomer on the American music festival scene has all the big names: from Public Enemy to Mrs. Carter. The lineup this year promises to be even more legendary.