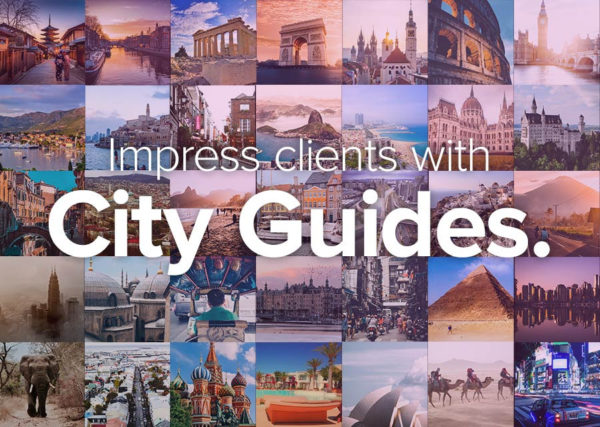 We strive to simplify the Travel Agent workflow and the release of the new City Guides features aims to do just that.  With over 600 new City Guides and destination content from ArrivalGuides, this is a key feature that will  help our users save time, simplify their workflow, and impress their clients.  We are thrilled, ecstatic, pumped to bring this new feature to our users!
So how does City Guides work? This new feature allows users to seamlessly add City Guide and destination content from 600+ cities across the globe.  Not only does the City Guide content offer powerful, detailed information—but it's easy to use with a simple drag and drop. To see a full video of how this feature works, go here.
Information Included in City Guides
The general information within each destination includes a multitude of sections all of which include photos and mapped points of interest with descriptions. The sections include: Destination Overview, Neighborhoods, Events, Nature & Outdoors, Do & See, Dining, Cafes, Bars & Nightlife, Shopping, Passport / Visa, Best Time to Visit, Airport Information, Public Transportation, Information, Post Office Information, Pharmacy, Telephone, and Electricity among others. Learn more about what information is included in City Guides. 
 City Guide Content Powered By ArrivalGuides
This new City Guide feature has been added via collaboration with ArrivalGuides, the market leader in destination content.  The content provided by ArrivalGuides is authentic, being input directly by local Tourism Boards and destination experts around the world!
This is the type of feature that can save you hours of time while still providing amazingly rich details for your clients.  And you can add full City Guides or customize and curate as much as you wish!  This feature is for users on our Plus plan. To learn more about this new feature check out this City Guide article.