Calling all travel professionals! We have exciting news just for you!
If you are a subscribed Travefy Professional user, you can now acquire a unique referral code that you can share with your friends and colleagues–and in return they will get 10% off a Travefy Professional plan and you will earn 10% in commission off the plan they subscribe to.
Ready to start sharing? Signing up is simple. Here's how to get your unique referral code and begin sharing it today:
1. Log into your Travefy Professional account. (Please note: must be a paid subscriber, you won't have access to the Referral Program during a trial.)
2. Next, go to your Account page found at the top.

3. Press the Referral Program on the left-hand side of the screen.

4. Next, you can generate your referral code to share by pressing the button "Generate Your Referral Code". This will then automatically give you a code that you can begin sharing right away.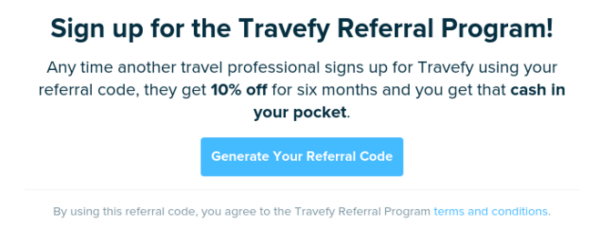 For all commission breakdowns and additional information, you can visit here.
Happy sharing!