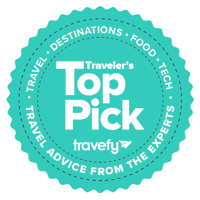 Expert recommendations on travel, destinations, food, tech and more.
Each week our experts put together one list of the best of the best of some of the top travel ideas and products out there.
Live music will always be one of the best things to hear at a bar, especially if it's good live music. If you plan on taking a trip to the home of Mardi Gras you can expect to hear it basically wherever you go. Whether it's jazz, house blues, or uptown funk (not the Bruno Mars song sorry) the streets of New Orleans are flooded with music.
With too many venues in The Big Easy to count, there are a few you definitely shouldn't miss checking out on your trip. You may even have to plan it out if you want to see more than one.
Tipitina's
This famous music venue has had everyone and their dog play here. Tipitina's has been rocking since 1977 and is still kicking the music scene's butt.  It's perfect for your inner funk lover. As well as every other inner New Orleans music lover in between.
Maple Leaf Bar
Keep your Tuesday night free and go check out Rebirth Brass Band's show. Your Tuesday will feel like a Friday night at this major drinking lounge. If you don't make it Tuesday, no worries it's got great music every other day too!
Rock 'n' Bowl
Take awesome music, drinks and then add in bowling and you've got yourself the perfect date. Make it a Thursday night date and you can hit the dancefloor and dance to awesome zydeco bands. You'll definitely get a second date.
d.b.a.
With everything from indie rock to brass band get a taste of New Orleans. Add in an extensive collection of craft beers and you've got yourself a night you won't forget. Then again, the best nights are sometimes the ones you do forget right?
Famous Door
If your thing is cover bands and a huge party crowd this is definitely the place to go. So while you're on Bourbon Street check it out. Watch out for those shot girls though, they'll getcha and you might end up drinking more than you planned. But hey, that isn't always the worst thing is it?
Of course New Orleans has about a million other great places to be and this is just a small selection. But I wouldn't leave them out of your trip. It's definitely worth stopping in even if it's only for one drink and a song. Who knows you might fall in love with one.
What are your favorite New Orleans music venues? Let us know in the comments