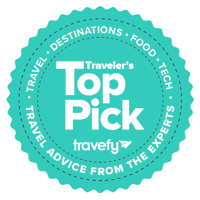 Expert recommendations on travel, destinations, food, tech and more.
Each week our experts put together one list of the best of the best of some of the top travel ideas and products out there.
Depending on their duration, the time of departure and the passengers, some flights can be particularly painful.  Noisy cabins, uneatable food, and cramped legs are just some of the worries during long-haul flights. Luckily enough, there are some awesome travel gadgets that will ensure that you do not go insane confined to your seat. From battery packs to sleep masks to robust carry-ons you won't have to worry about, here are our top picks of the travel gadgets every seasoned globetrotter should have in their gear.  
1. Getting extra juice
Feel free to use your phone as much as you want to read saved articles or play game during long flights and layovers. The Mophie Juice Pack Plus battery case prolongs your phone's battery life by %120 while providing extra protection against falls and shocks. For $120 are special juice pack available for all popular smartphones, including Apple iPhone and most Samsung models.
2. Stay organized
Little things can make travel complicated sometimes. That is when you need a powerful, slick, and stylish organizer. The Knomad Mini Portable Organizer is, hands down, one of the best on the market. For $178, it provides pockets and straps to store and protect your tablet, phone, accessories, and travel documents. Plus it comes with an integrated battery pack to jump charge your devices while you are not using them.
3. Cancel  cabin noise
Traveling will take you out of your comfort zone. For the times when you need a moment in your own bubble to retrieve your sanity, there are the BOSE Quietcomfort 15. In a price range of $280-300, they ensure the best sound quality and silencing capabilities on the market. Say goodbye to snoring passengers, baby cries, and annoying cabin-speaker calls.
4. Watch handsfree
If you do not know Jobi, they are behind some of the slickest and sickest designs for mobile tripods and stands. Their GorillaMobile Ori is an iPad case/stand, based on the concept of origami, that folds to position your device at your desired height and orientation. For $25 (on Amazon), it is definitely one of the most beautiful and useful lightweight gadget for your tablet.
5. Travel light
The MacBook Air has bridged the gap between laptop and tablet without compromises. Without being a hybrid, it combines the best of both world. Despite its small size and weight, this perfect laptop packs the same punch as its heavyweight counterparts, and boast a battery life close to five hours per charge. Expect to cash out $999 for this marvel of technology.
6. Please your inner bookworm
Tablets are great versatile travel gadgets. But for true bookworms, the Amazon Kindle Fire Paperwhite is a must-have. With the ability to borrow "book" directly from Amazon, it is like carrying a whole library along with you during your travels. This kindle has a high contrast, built-in light and anti-screen-glare that make reading comfortable regardless of the lighting conditions in the cabin. Plus with no useless apps to drain battery life, you can count on days — and not just hours — of reading.
7. Carry on
Sick and tired of airlines destroying your precious luggage? What you need is the Delsey Helium Shadow 2.0. Made of 100% polycarbonate, it is durable and lightweight that come in pleasant yet easily recognizable colors. The spinner wheels ensure maneuverability while its size make it the perfect inflight bag. Plus its pricing ($80 – $90) is more than $200 below that of other trolleys of similar quality.
8. Have a group listening
This is one of the cheapest ($10 on Amazon) yet most awesome gadget for group travel and family vacation. The Belkin Rockstar Earphone Splitter lets up to five people listen to one device. Just plug it into the laptop or the tablet and have your own in-flight entertainment. Just be mindful of the other passengers stuck with the inflight entertainment.
9. Get your beauty sleep
The frequent traveler and anyone who has a hard time coping with jet lag will welcome the Dream Essentials Escape Luxury Sleep Mask. For $20, you will afford to sleep anywhere, thanks to a 100%-cotton mask designed to avoid putting pressure on the eye cavity. It comes with a pair of soft-foam earplugs and a carry pouch so you can safely store this travel gadget.
Here is our top picks for in-flight travel gadgets everyone should have. Did we miss your favorite? Tell us about it in the comments.
About Us
Travefy is a free, all-in-one travel planner that makes it easy to plan trips with friends and split travel costs. Discover 8+ million fun trip ideas, discuss and plan together. To learn more, visit Travefy and follow us on Twitter, Pinterest, and Facebook.