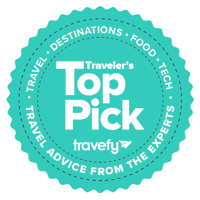 Expert recommendations on travel, destinations, food, tech and more.
Each week our experts put together one list of the best of the best of some of the top travel ideas and products out there.
Pristine beaches, year-long sunny days, and the sexiest beach-goers in the country! When I heard that I was going on a one-week vacation in Miami Beach, my first though was that I was scared of the dent that this trip will put in my finances.
Miami Beach is a century-old coastal resort city with world-famous places like Ocean Drive, hotels, condos, and buildings that played host to the most mythical Hollywood productions. (Think Scarface and Goldfinger, just to name the two).
What I found in Miami Beach — aside from the beautiful people, exotic cars, and swanky venues — is a fantastic beach town that caters to all, from the budget travelers and backpackers to the luxurious vacationers.
If you decide to visit Miami Beach on a tight budget, know that you can do so while pleasing the foodie in you. Here are six local restaurants, with authentic cuisines that give meaning to Miami's monikers: Capital of Latin America, Little Cuba, etc.
1. Tap Tap
Tap Tap is a quaint little piece of Haiti in the extravagant Miami Beach. It should be your go-to place for the most authentic Haitian fare. For a little over $10, you can sample the spicy foods of Haiti and its spiky rum cocktails.
I tried the Griyo with sweet plantains and a Mojito, while listening to live reggae music and contemplating the colorful murals. It was fantastic.
2. Exquisito
As the name suggests, the food here is exquisite. Exquisito is a restaurant on Calle Ocho, deep in the heart of Little Havana and the Cuban diaspora of Miami. The restaurant has two rooms, each with its entrance and its feel; restaurant or dinner.
Either side has a wide selection of Cuban food on the menu, accompanied with wine, beers, and cocktails from different horizons. Have a shot at the bistec de palomillo, it is exquisite, and the service is friendly.
3. Yambo Restaurant
Yambo is a Nicaraguan restaurant with a front porch that has a food stand and seats for those who wants to eat outside — which is almost everyone. I ordered chicken (pollo) for $8. and they served me a huge meal complete with a huge chunk of queso (fried cheese), and a large portion of rice. Come with friends so they can help you finish your plate. And be prepared to order in Spanish.
4. Playa Cafe
Collins Road has many cheap yet excellent accommodations. Playa Cafe is a small diner on Washington hidden between shops. Follow the crowd, they will lead you to this hidden gem. They serve breakfast up to 10:30 am, in case you sleep in and miss breakfast at the hotel. For lunch or dinner, you have to try their Cuban sandwich — one of the best I have tasted myself. Note that the dinner becomes pretty busy during lunch hours, so plan accordingly.
5. Charlotte Bakery
Do not be fooled by the name. Charlotte bakery has the common cakes and other treats to indulge your sweet tooth, but also has a large variety of sandwiches and street foods from all over Latin America. I tried a couple of bakeries in Miami Beach, but this is definitely my favorite.
I liked that they served breakfast up to 12:30 am and that their mocchatino was far better than most without the hefty price tag. FYI: there's an Italo-Argentinean restaurant of the same name, attached to it… for when you crave steak.
6. Front Porch Café
Ocean Drive is a popular attraction in Miami Beach. The road extends from 1st Street at South Pointe to 15th Street where you will find Front Porch Cafe. The Drive is famous for its lavish restaurants and hotels, especially the ones in the Miami Art Deco District.
Front Porch Cafe has a nicely decorated terrasse, perfect for taking in the ocean breeze and the beachfront views. They have a large selection of sandwiches, burgers and salads. Surprisingly, a good lunch might cost you just a little less than $20. Enjoy!
There is a lot to see and do in Miami Beach, but there is also much to taste. When you visit, you must sample the best of French, Haitian, and Cuban cuisines. What is your favorite restaurants in Miami Beach?