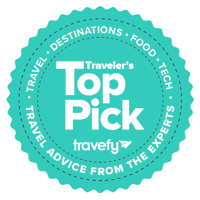 Expert recommendations on travel, destinations, food, tech and more.
Each week our experts put together one list of the best of the best of some of the top travel ideas and products out there.
While on holiday in Australia, some adventures will allow you to encounter wildlife in their natural environment and some animal encounters are still best left to the safety of zoos. That being said, Australia has some of the best zoos in the world. These zoos focus on conservation and building awareness for animals as well as their natural environments. Here are 5 of the must-see zoos to visit when you are nearby.
Australia Zoo
The Australia Zoo is the home of the Crocodile Hunter. Steve Irwin's family still owns and runs the zoo with a primary focus on conservation and education. The Australia Zoo is located in Queensland near Beerwah, which is west of the Sunshine Coast and close to the Glasshouse Mountains. When you visit the Australia Zoo, the messaging about conservation and helping animals is very clear. You can adopt an animal at the zoo and contribute a helping hand to their conservation and preservation efforts. While at the zoo, you can be a zookeeper for a day or purchase photo packages of up-close animal encounters.
Lone Pine Koala Sanctuary
The Lone Pine Koala Sanctuary is rated one of the top 10 zoos in the world, so it had to make our list of Australia's top zoos. The sanctuary is located close to Brisbane, the capital of Queensland. Although you can find koalas in the wild in many of the national parks, this is the best place where you are guaranteed to see koalas and other native Australian wildlife up close. They hold daily educational shows and interactive encounters where you can get to know over 130 koalas as well as platypus, Tasmanian Devils, Lorikeets, birds of prey, snakes, sheep dogs, and snakes.
Malcolm Douglas Wilderness Park
Before Steve Irwin was a popular television figure educating the public about animal conservation, there was Malcolm Douglas. Malcolm Douglas led the way in broadcast journalism and animal conservation efforts. Even though he may not have been as popular to international audiences, his wildlife documentary still holds records in Australia. His family still owns and runs the wildlife and conservation park he established just outside of Broome, Western Australia in 1983. The park is open daily. There you can see crocodiles and learn about other animals in the park including many species of birds, a cassowary, dingoes (including the rare white and a black), hundreds of kangaroos, euros and wallabies, as well as emus, jabirus, snakes and lizards.
Taronga Zoo Sydney
The Taronga Zoo is right in the heart of Sydney in the Mosman suburb and is a great way to get in some wildlife adventuring if you are only staying in the city. The zoo opened in 1916 and currently features over 4,000 animals. It is a very large zoo with 8 regions on over 21 hectares. There is much to see and do at the zoo for kids and adults of all ages. You can even stay overnight in the zoo for their "Roar and Snore" sleep-over event with safari-style tents. You get to sleep near the animals in luxury tent accommodations with amazing views of Sydney's skyline, the Sydney Harbour, and the Sydney Harbour Bridge.
Taronga Zoo Western Plains
While in Sydney or New South Wales, if you want a more wild-zoo experience, visit Taronga Zoo, Sydney's sister zoo called the Taronga Zoo Western Plains, which is about a  5-hour drive west of the city.
The Taronga Zoo Western Plains was establish in 1977 to be able to allow for more space for the plains animals like giraffes, rhinoceos, elephants, antelopes, and other larger animals that could really use the bushland space provided. The Taronga Zoo Western Plains also offers overnight accommodations. There are 3 options including a Billabong Camp, the Zoofari Lodge, or the Savannah Cabins. Some luxury accommodation packages include meals and private tours of the zoo. It's a great way to see the zoo in style and make it a holiday experience rather than just a day-long adventure.
Healesville Sanctuary
The Healesville Sanctuary is located in Victoria, about an hour east of Melbourne. The location in the rural Yarra Valley provides 30 hectares of natural bushland environment, which is ideal for the native Australian wildlife that they protect and treat here. The focus of this sanctuary is to help keep endangered animals from extinction. Guests are invited in to supplement the costs of treating over 2,000 sick and injured animals each year. When you go to the sanctuary, you can get up close and personal with a variety of animals like kangaroos, echidnas, koalas, wombats, dingoes, a python, and a variety of bird species. The sanctuary also offers a very unique experience to wade in the water with the platypus, normally a very shy and elusive creature.
Author Bio
Jason Hall is blogger and Brand Manager for Budget Australia car rental. He enjoys sharing Australian travel tips and ideas.