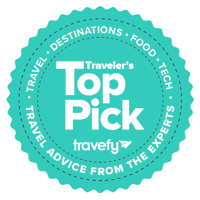 Expert recommendations on travel, destinations, food, tech and more.
Each week our experts put together one list of the best of the best of some of the top travel ideas and products out there.
Austin, Texas is a popular party destination beloved by bachelor(ette) parties, spring breakers, music lovers and… foodies. Yes, Austin — and Texas for that matter — is particularly attractive if you are into barbecued ribs, briskets, and that sort of delicious things.
While there are many BBQ joints around town, you will want to spent your precious travel budget in a place that allows your to bring your own beer. You know… because retail beer is always cheaper than their pricey in-house counterparts. Here is our take on the top BYOB BBQ joints to eat at in Austin. 
Micklethwait Craft Meats
East Austin
1309 Rosewood Ave.
Flavorful homemade sausages, prime ribs, and other quality meats served by the pound. Tom Micklethwait welcomes you to his picnic tables and encourages you to bring your own booze — be it wine, beer, or liquor. Be sure to choose something that will go well with their carefully smoked and barbecued craft meats, sides, and sandwiches. 
Salt Lick Barbecue
Driftwood / Round Rock
18300 FM 1826
Come armed with a cooler full of Jester King's Salt Lick — a seasonal beer whose malt has been roasted on the same pecan wood as the pork ribs you are here to eat. This BYOB BBQ joint not only honors the Texan hospitality by welcoming your own booze on their premises but also make sure you get your fix of finger-licking barbecued ribs, briskets, and sides at their all-you-can buffet. ($24.95/person) Only drawback is that they only take cash so make a stop by the nearest ATM beforehands.
La Barbecue
East Cesar Chavez
902 E Cesar Chavez Street
A trailer, picnic tables, and top-class barbecue that bring the crowd to the yard. La Barbecue is the perfect place to chill with your favorite people while sipping on your favorite booze. The menu is varied forcing to choose between award-winning beef, pork, and turkey plates, briskets, ribs, etc. Good luck finding a favorite given that everything is equally delicious.
John Mueller Meat Co.
East Austin
2500 E 6th Street
Half smokehouse, half traditional butcher, John Mueller Meat Co. claims to have the biggest backyard BBQ in Austin. Go check it out and judge for yourself while you try out their "world-famous" meats. The menu is interesting and profits from the savoir-faire of three generations of meat crafters. Of course, this also have a BYOB policy so if you don't find the party, you can be the party.
Franklin Barbecue
East Austin
900 E 11th St
Be thankful Franklin has a BYOB policy; that should keep you busy while you wait your turn to bite your teeth in one the finest smoked meats in Austin. Franklin's known for getting his barbecue right and for delighting meat aficionados with quality pulled pork, ribs and briskets since 2009. 
Austin is famous for its music festivals, its easy-going crowds, and all its smoked meats. Hopefully, at these BYOB BBQ joints you will want the best of all three. We heard they even have special days where the Lone Star is on the house. If you know more about that, please let us know so we can update this post. What is your favorite barbecue restaurant?