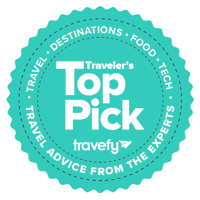 Expert recommendations on travel, destinations, food, tech and more.
Each week our experts put together one list of the best of the best of some of the top travel ideas and products out there.
We all know the Opera House and Harbour Bridge as being among the most outstanding landmarks in Sydney. But when you visit, you will find that there are so much more to see and do. Below you will find a selection of the best attractions to visit at all costs in Sidney.
Sculptures by the sea
Every November on a ridge overlooking the sea, tourists can enjoy interesting sculptures created by some of the most famous sculptors of Australia. I enjoyed not just the art, but the incredible views from the ridge.
Bondi Beach
Sydney's most famous beach attracts sun lovers and other beachgoers all year long. Surfers flock the beach but you too can enjoy long sunny hours on the hot sand. Bondi Beach is an excellent choice when you plan to take a break in touring the city's museums and other sights.
Art Gallery of New South Wales
The Art Gallery of New South Wales has a large collection of Australian, European and Asian art you must see. There are free guide tours on site to make sure you get the best out of your visit. This is the opportunity to discover the culture of the Aborigines as well as the history of Australia through paintings.
Fitness tours
A friend of mine told me that you can go on one of the numerous fitness tours in Sydney. It is an original way to explore the city, take in its magnificent views, visit some attractions, while running in lightweight pace.
Kings Cross
Kings Cross is Sydney's red district area, with chic bars, swanky neon lights and nightclubs. Also known as the "Inner East", this is the centre of nightlife in Sydney. There is a lot of interesting bars there, trust me.
Shark dive extreme
One of the most extreme experiences of my life was definitely diving with sharks, turtles and giant rays. It is the experience to have at the aquarium located on the north shore of Sydney Harbour.
Ride around Sydney in a Batmobile
There is a guy (Zac if I remember correctly) in Sydney who constructed an exact replica of the Batmobile from 1989 Batman film. As I am a great fan of Batman, I had to ride in his car around Sydney. It was a dream-come-true experience.
Golfing in Sydney
Golfing is a pleasant walk for some and a sport for others. If you are like me, it is a bit of both. Golf clubs in Sydney could be among the best golf clubs in the world. I think that I can agree with that.
Skydiving
The experience was unforgettable. Better than any roller-coaster ride. The adrenaline rush was extreme and the feeling that you get while in the air is something else. I will definitely do this again.
Picnic at the Royal Botanic Gardens
The Royal Botanical Garden is located east of the Sydney Opera House. The Royal Garden is a place where visitors can awe at the most beautiful gardens, tropical flora and exotic birds. It is a perfect spot for romantic picnics in the heart of the city.
Sydney is a beautiful major city and certainly one of the most visited in the world. I tried my best to discover these local unique things to do. Did I miss your favorite? o you want to had other places? Tell us more in the comments below.
Author Bio
Neil Adams is a traveler from Australia. He wanders all across Australia and beyond and sometimes writes about it. You can find Neil on Twitter or Facebook.