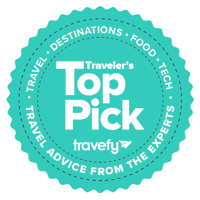 Expert recommendations on travel, destinations, food, tech and more.
Each week our experts put together one list of the best of the best of some of the top travel ideas and products out there.
If Valentine's Day is all about love, why is it we only celebrate couples instead of inspiring singles to find each other? If you happen to spend an evening in Los Angeles, we found five singles bars and venues perfect to meet new people and perhaps bump into your better half.
Good Times at Davey Wayne's
The lineup at GTDW on weekends is insane and the crowd here is as sexy as they get. This Hollywood singles bar stands out for its 70s theme, booze snow cones, and its entrance: a fridge door. After all, what better place to eat a snow cone than in a giant freezer?
The Pikey
A cafe and bar on Sunset Boulevard is a sure bet for finding hotties on Valentine's Day. It only gets better when its a London-style gastropub with three dark rooms, two well-supplied bars and one of the best darn food you will ever eat. Given that the Pickey is always packed, you triple-double your chance to pick up the perfect date here.
The Bungalow
If you are looking for a great outdoor singles bar in Santa Monica, go to the Bungalow. The atmosphere on weekend is that of a house-party with the Pacific as a backdrop. Sip on specialty drinks by the outdoor fire pit, engage in some sweet talk you would probably forget in the morning, unless it was with the right one.
Eveleigh
Eveleigh on Sunset ranks high with LA's restaurants with outdoor seating and dining options. It is even among Zagat's top 10 first-date restaurants  in Los Angeles. The decor and menu are enchanting, and the signature drinks will get you in the mood for an enchanted night.
The Otheroom
Come meet and flirt with beautiful jetsetters at this singles bar on Venice. The atmosphere is laid back and the patrons easygoing. The Otheroom is definitely the rendezvous for craft beer lovers and wine tasters and anyone looking for company on a Valentine's Day evening.
What to do think of this shortlist of singles bars in Los Angeles? Did we miss your favorite spot? Let us know in the comments below. For more tips and guides, follow us on Twitter and Facebook.