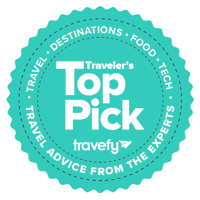 Expert recommendations on travel, destinations, food, tech and more.
Each week our experts put together one list of the best of the best of some of the top travel ideas and products out there.
Modern travelers are people on the go, constantly connected, and dependent on their mobile phones. Therefore, they need apps that fit into their fast lives. Quickly find a cab to your hotel, (darn, the hotel!), book one on the spot, keep track of flight status, these last-minute actions are crucial.
1. FlightTrack
FlightTrack does what the name says it does: it tracks flights in real time. Better yet, it even monitors group flights and that's pretty convenient if you are traveling with friends or relatives. The FlightTrack app will also notify you of flight status, gate changes, and other last-minute events.
But if you are a proud Android user, then you probably know that Google Now also does that perfectly and comes pre-installed.
2. Detour
Andrew Mason, the founder of Groupon, is back with a new app that wants to help travelers discover hidden paths in major cities. Its location-aware walking tours are more like moving stories rather than your traditional facts about tourist traps.
Still in beta, the app plan to include a toolkit to allow anyone to create a detour and help others explore new trails. Could Detour be the app that will revolutionize "local experience" travel?
3. Entrain
Entrain wants to help you beat jetlag. Isn't that the international traveler's ultimate quest? This travel app monitors the user's body circadian clock and regulates it using scientific-based lighting schedules.
Entrain turns your smartphone into a sleep optimizer and one of the smartest alarms out there.
4. Gymsurfing
Find gyms, yoga classes, and everything you need to stay fit while you are on the road. This travel fitness app gives you access to gyms across the nation, in case your hotel's fitness room does not meet your standards.
While the app grants access to more than 150 fitness centers nationwide, each workout will cost you $5 minimum.
5. Travefy Expense Manager
The new Travefy Expense Manager makes it easy to add and remove people you share travel charges with. The app also adds flexibility and ease to the collection process, providing a variety of payment methods: from direct payments to PayPal, credit card, and bank account transfers.
This expense manager is part of a full suite of trip planning tools for collaborating on trip details, finding group deals, and building a rich itinerary. Plus, it is 100% free.
You don't see your favorite app in this list? Tell us all about it in the comments below. Be sure to follow Travefy on Twitter, Facebook, and Google+. We love to hear from you!