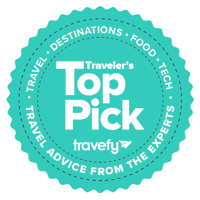 Expert recommendations on travel, destinations, food, tech and more.
Each week our experts put together one list of the best of the best of some of the top travel ideas and products out there.
Where can you find the best pizza in America? The subject is as opinionated and dividing as it gets. New Yorkers will tell you there is no other pizza equal to theirs: certainly not the Chicagoan deep-dish pizza. Just ask Jon Stewart.
New York pizza is as famous and as much of a prized state food as their hot dog. And don't dare visit the Big Apple without having a shot at their (world famous?) New York pizza. So you don't get lost in the pepperoni-and-cheese jungle that is New York pizza scene, here is a list of the five best pizzerias in town.
1. Pizza at Grimaldi's – Brooklyn
If New York has the best pizza, who's the boss of the New York pizza scene is a whole other debate. You will find Di Fara's and John's often cited here and there. But you can't go wrong at the coal-fired pizzeria under the Brooklyn Bridge.
Grimaldi's has received many accolades as best New York pizza, and claims a spot among the best pizzerias in America. But forget the titles, judge them by the long waiting line that extends down the street.
If you want a memorable bite, a great atmosphere, and a scenic view on a historic part of Brooklyn, Grimaldi's delivers.
2. Koronet Jumbo Pizza – Morningside Heights
Why Koronet? What about giant New York pizza slices as big as your head! This pie has a 30-inch diameter making it one of the biggest pizza pies you will ever see in your life. Plus you get the jumbo slice without the huge bill that should come with a pie this good. No wonder the place is famous among Columbia University students and bargain hunters.
It has to be entertaining to watch the preparation of the dough or see how a person takes a bite of this.
3. Luzzo's Pizzeria – East Village
Eater.com organized a contest to find the ultimate New York Pizza, facing off 16 pizzerias against each other – old and new school. Luzzo's entered as a wildcard and ended up winning the bracket.
It might be newer that Grimaldi's or Arturo's but Luzzo's stands out as a sure bet on the New York pizza scene. It offers coal-oven pizzas with a varied menu that you would love to sample. From truffle pizza to Neapolitan classics, you won't want to order the same stuff twice.
Luzzo's is one of those pizzerias you discover, fall in love with and never ever walk away from.
4. Artichoke Basille's Pizzeria & Brewery – Gramercy
This pizzeria opened in 2008 which makes it a newbie on the New York pizza scene. Still, it already features Zagat's list of best restaurants in NYC with a vibrant late-night scene.
Artichoke offers artichoke pizza (of course) and dips. They also have a large menu of selections that include crab, Sicilian, and Margarita pizzas.
Its late night hours and affordable fare make it the place for all bar crawlers and night owls.
5. Patsy's Pizza – East Harlem
You know that when an eatery considers itself as a restaurant institution it is stuff of legends. You can only expect the best from the original pizza-making dynasty. The Patsy name is associated with the authentic thin-crust New York pizza and used by others outside of the Lancieri family.
Patsy's pizzeria has been around since 1933 and is a true landmark in East Harlem. It has hosted famous political events and might have even inspired the ambiance in Coppola's Godfather.
Come not only for the pizza but also to visit a true pizza-crafting institution and New York landmark.
Did we miss your favorite New-York-Style pizza? Tell us all about it in the comments or on social media.
About Us
Travefy is a free, all-in-one travel planner that makes it easy to plan trips with friends and split travel costs. Discover 8+ million fun trip ideas, discuss and plan together. To learn more, visit Travefy and follow us on Twitter, Pinterest, and Facebook.