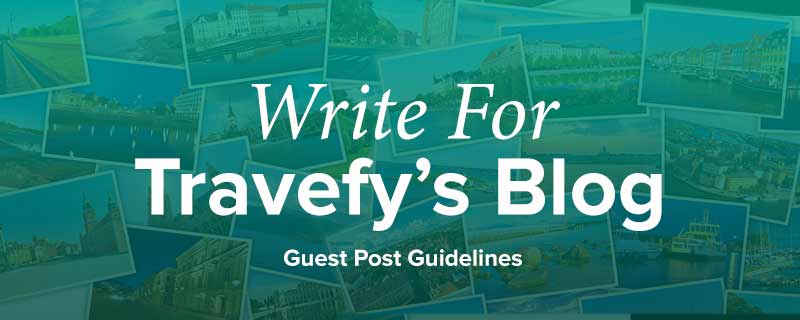 Here at Travefy's Blog, we love guest posts and welcome writers to contribute their best work to the wealth of travel tips, tricks, guides, and experiences.
---
Who we are
Travefy is a platform for travel professionals to build and manage client quotes and itineraries. It offers a web and mobile app that allows travel professionals to build and craft beautiful and professional itineraries for their clients and deliver it to them via Link, Email or PDF.  
This blog aims to provide valuable, educational and inspiring articles from expert voices in the B2B Travel Industry. The Travefy blog is an open forum for the travel industry and community to share their best business and travel tips, travel industry news and insights, marketing best practices, and more. We want posts to be original, inspiring, and useful to all of our readers that are travel advisors, tour operators or travel professionals.
---
Our Readership
The B2B travel community at large, from the U.S. and Canada, to India and England, Brazil, West Africa, and back. This includes Tour Operators, DMO's, DMC's, Destination Management Companies, Travel Agencies, Independent Travel Agents/Professionals and the alike that are interested in building their business and finding value to share with their clients and colleagues will find a reason to love to follow Travefy Blog!
---
Submission Guidelines
We only accept travel-related content; ranging from travel industry news, business-related content for travel professionals, destination guides, itineraries to travel tips, etc… For more guidance, just take a look at blog.travefy.com to see what types of content we like. Please don't submit anything outside of this genre for review, we are not interested.
We review new submissions on Monday mornings on a first-in-first-out policy.

Please

allow us 10 business days to review and respond

to blog post inquiries and submissions.

Only quality posts will be published. Everything you submit must be original, well-written and easy to read, even for a seventh grader. We use a free readability score calculator

.

Absolutely no branded, promotional, or marketing content of any sort. We do not do commercial!

Give us your most insanely useful content. If it is not useful to our readers, it certainly is useless to us as well.

Proofread and edit the content of your post before submitting – all submissions are considered final—no edits or changes will be made.  

So dot your I's and cross your T's, capitalize titles and subtitles where needed please.

No cross-posting, please. We only accept fresh, original content and will run a plagiarism check on every submission prior to posting.

Make sure your post does not infringe on any copyright or violate any law. You are responsible for everything you submit.
Only posts that meet our post requirements and are properly submitted will be considered for review.
---
Post Requirements
A good post should have:
an introduction; one that attracts interest and makes the reader wants to go a little further.

proper capitalization and punctuation throughout the article. This includes Title and any subtitles! Don't forget to capitalize words where needed!

headings, bolded key points, bullet points (to make things scannable).

at least 300 words. While there is no upper limit, verbosity does not compensate for quality.

links to at least one image with a recommended size of 1920 x 1275. You should own the rights to the image or make sure it is creative commons.

a short and punchy author bio (50 words max) where you can add one relevant backlink. You may recommend a vendor that you have worked with or have experience with. Absolutely no commercial or promotional links though.

a killer title that makes people want to read the first line of the post… for the very least
---
How to submit
Please send your best blog posts to guestpost[at]travefy[dot]com:
Start the subject line with GUEST POST (all caps) followed by the title of your article.
Introduce yourself briefly — say if you own a blog yourself or if you are a freelance blogger writing for someone else.
Outline your post with bullet points.
Make your case as to why our readers would benefit from your post.
Thanks for your interest in writing for Travefy Blog. Remember that we retain the copyright to everything we publish to make sure the content published on the blog remains unique to our blog. We look forward to connecting with you!