Creating an awesome itinerary is rewarding for both the travel advisor and client, but can also take a little work for the advisor if they are adding a lot of information in for the first time. Luckily, with the Travefy Professional itinerary builder, you can speed up the process exponentially while also creating a great looking itinerary with one simple trick… The Content Library.
Here are six ways to utilize your Content Library to make your life simpler and build beautiful itineraries for your clients.
1. Create a Destination Guide
A simple and refreshing way to add value and content to your client's itinerary is by adding destination information. What's even better is adding it one time and using it again for future itineraries! You can do this by going to your Content Library in your Travefy Professional account and adding a new Place.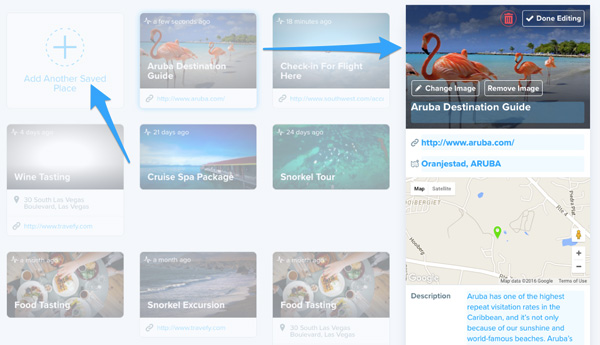 2. Flight Check-Ins
Keep everything in one organized place for your client. When it's time for them to check-in for their flight, you can add a place in your content library then drag it into the itinerary and update any information needed like a URL and description without editing the master copy.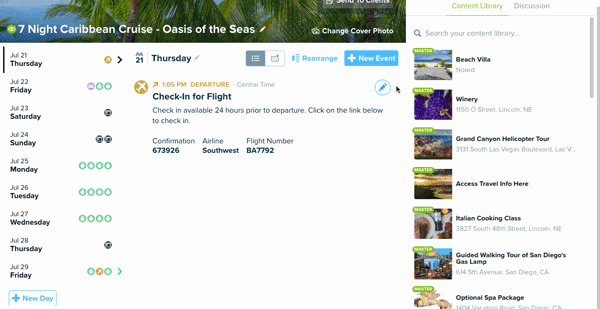 3. Activity or Excursion Options
Do you have tours and packages you like to offer your clients? Add them to your Content Library and include a booking link so that your clients can book a tour or activity directly from their itinerary.
Pro Tip: If you have a referral link, share that URL in the Content Library, so that when your client books, you will get a referral from that booking.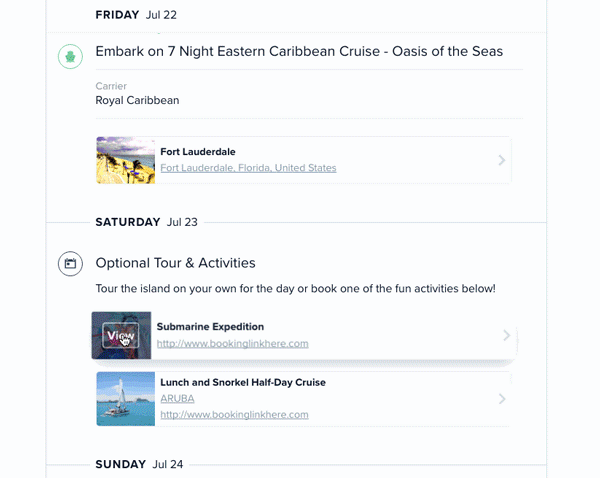 4. Embassy Information
Safety is extremely important for every traveler, so having the Embassy contact information and location available when traveling abroad is a must. Create a Place in your Content Library for each Embassy destination you are likely to send clients to or just create one Embassy Place and edit it for each itinerary you create. You can find Embassy information here.
5. Agency Contact Information
Even though your main contact information is listed on the shareable itinerary already, it's always nice to have additional contact information if you have it. Information like a 24/7 support hotline, emergency contacts, etc.
6. Recommended Attractions or Restaurants
Who doesn't love options? Pull together multiple places for things to do, see, and eat.
Pro Tip: Check out the "Discover" section in your Travefy account to search for restaurants and places in the area your client is traveling! You can find the Discover section on the left-hand side of your itinerary (compass icon).