We love what we do at Travefy and want to know what we love even more? Hearing the success stories that Travefy has brought travel businesses all over the world. We couldn't help but share the amazing stories with you so we are putting together a success story series to share how other travel professionals are leading the way with Travefy by their side.
Today's success story is about Rem Malloy and Deborah de Maio, founders of Italy4Real and Travel4Real.
Mother and son duo, Deborah and Rem, founded Italy4Real and Travel4Real in 1995–both being dedicated treasure troves of information, services, and solutions for any travel need. Each brand offers completely customizable travel solutions, escorted tours, and detailed information to research the perfect trip for all of Western Europe.
However, the team faced a big problem: organizing and sharing the trip itinerary and information was time-consuming and hard. "We were frustrated in using several different software programs, word processing formula spreadsheets to create our client's itineraries and lost time in creating good looking itineraries," said Rem.
That's when Rem discovered Travefy! "Travefy is very user-friendly and intuitive, it provided all of the details I needed to create great itineraries." Another bonus for Deborah and Rem was the ability to offer professional looking itineraries anywhere and on any platform. "The ability to share the itinerary with my clients and have them view it on any device or desktop PC they have, as well as anywhere in the world they might be."
"Our customers rave about how great the itineraries look compared to before we found Travefy." – Rem
A beautiful itinerary isn't all that has graced the mother and son travel team with either…"We think our sales conversion has increased since Travefy as we are saving a lot of time."
"I would recommend Travefy to any travel professional looking to impress their clients and close more travel business."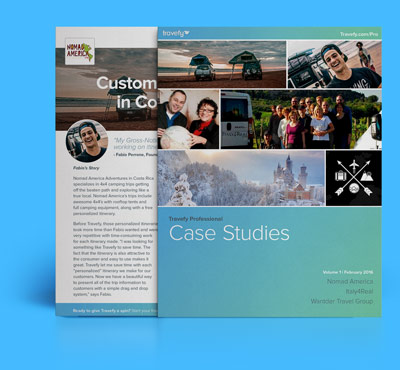 Read all of the stories.
Check out these other quick stories of some of our all-star agents. Learn how they use Travefy Professional to impress the socks off their clients and free up their schedule to tackle new business.