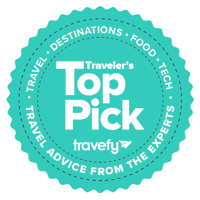 Expert recommendations on travel, destinations, food, tech and more.
Each week our experts put together one list of the best of the best of some of the top travel ideas and products out there.
One of the signs by which you recognize a backpacker is  by the unparalleled ability to visit all the churches in the world without ever attending a mass. Among the many interior decorations that they come to see, the vitrail glass art masterpieces!
If you are interested in stain glass, sand blowing and that sort of magic, you should know that the Seattle glass art scene has some of the most beautiful works in the country, all yours to see in local museums and art galleries.
Luckily, Travefy, 1000Museums and their partners want to send you and a friend to Seattle, WA for the luxury Art Immersion weekend of your life — check out details and get entered here. On top of the lavish accommodations and the VIP treatments, here are 5 other venues the lucky winner will want to go visit.
1. Chihuly Garden and Glass
305 Harrison St
Since 2012, you can admire the most extensive collection of awe-inspiring glass art in the 1.5 acre Chihuly Garden and Glass. This impressive exhibition of Dale Chihuly's finest pieces is a show of color and shape on display in the lush garden and in a center glasshouse.
Best part is that this mind-blowing Seattle glass art attraction lays at the base of the Space Needle. It is the right place to start an afternoon that should definitely end with the contemplation of the sunset from the SkyCity — the Space Needle's restaurant.
2. Avalon Glassworks
2914 SW Avalon Way
Glass art gallery, studio, and gift shop in one, the Avalon Glassworks always has a myriad of pretty gifts on display for grabs. Visitors at the Avalon Glassworks can get connect with artists and get truly interested in their work. They can even watch them while they bring their art to life.
Located in Downtown Seattle, the Avalon Glassworks is close to other popular venues such as the Luna Park Café and the Shack Coffee, which makes it a great stop during a barcrawl / art walk.
3. Seattle Glassblowing Studio & Gallery
2227 5th Ave
In its double capacity of glass art gallery and glassblowing school, the Seattle Glassblowing Studio & Gallery is a must-see for anyone with an eye for design and beauty.
It is also the place to get your hands dirty — as to speak, of course — and learn the techniques used by craftmen. Who knows? You could be the next Chihuly.
4. Seattle Art Museum
1300 1rst Avenue
The Seattle Art Museum is packed with large collections of art pieces (including its famous Hammering Man sculpture) and exhibitions that date back to Ancient Egypt. However it is its Glass at Pilchuck exhibition that will catch glass art lovers' attention.
This exhibition, on display since March 2014, celebrates Seattle's own Studio Glass Movement taught by the Pilchuck Glass School — a local renowned art school founded by… Chihuly. The Glass at Pilchuck exhibition is beautiful, and as fun to see as it is educative.
5. Museum of Glass
1801 Dock Street
The Museum of Glass is in Tacoma, a 45-minute drive away from Seattle. It is a glass art landmark and a must-see if you wish to learn more about this art and grand masters like Dale Chihuly who happens to be one if its founders.
The Museum of Glass is a large learning environment with unique exhibition galleries, art pieces on the outdoor plazas, and a huge glass art studio where visitors can witness the creation of art from molten glass.
If you are interested in learning more about glass blowing and the glass art in general, check out the Pilchuck Glass School summer open classes. Of course there are so many more places dedicated to the promotion of Seattle glass art, from open air installations to galleries. Want to suggest another place we missed? Tell us about it in the comments.