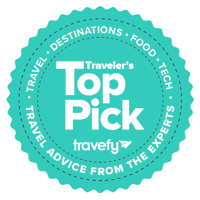 Expert recommendations on travel, destinations, food, tech and more.
Each week our experts put together one list of the best of the best of some of the top travel ideas and products out there.
NYC's bar scene needs no introduction or promotion. There are so many venues in the Big Apple that the best you can do is, either go after the new ones as they appear, or find a couple of favorites and stick to them.
When it comes to watering holes in NYC, you probably won't go wrong choosing a rooftop bar. Most of them, on top of having excellent tap selections, also offer terrific views of the city's skyline.
While there are many elevated bars in New York City that stay open all year round. True rooftop bars are open-air and best visited throughout summer. They are probably where you will want to spend Labor Day Weekend which marks the unofficial end of summer and the outdoor fun. If you are in NYC at that time, here are our picks of the five rooftop bars to check out.
1. Gallow Green
If you are looking for an eccentric rooftop bar in NYC, Gallow Green will be your favorite spot. Named after the Scottish place where the Paisley witches were tried and hanged, guests can expect a ghostly atmosphere accentuated by twinkling lights in a verdant and rustic decor.
Located atop the McKittrick Hotel, Gallow Green offers a fantastic view of the West Side, though people come for the shows, the boozy punches and the sling cocktails. If you can, get a seat in the railcar — said to have the best seats in the house — and enjoy their interactive theater performance: Sleep No More.
2. Berry Park
Berry Park has a name that suggests sports and probably baseball. But this rooftop bar is a 3,000-square-foot, double-level beer garden skewed toward European ales, food, and football.
Their giant screen essentially displays soccer, their tap selection boasts an impressive collection of brews — including the best of German and Belgian imports, and the retractable roof ensures that the boozy fun time carries on, regardless of the weather. Berry Park is definitely a great place for those who want to spend some time on the Old Continent without ever leaving the Big Apple.
3. La Birreria
La Birreria is another impressive rooftop bar to visit in New York City. This elevated beer garden is 14 stories above Eately, and yes its offers are definitely Italian skewed.
The beer selection highlights imports from Italy as well as house-brews. You must try them coupled with their cuisine as authentic as it gets. At this point, the views of the Empire State Building and  the Flatiron are just the icing on the cake.
4. The Ides
This rooftop bar capitalizes on the hip factor of Williamsburg and the Wythe Hotel where it is located. The hotel has just the right dosage of vintage without feeling retro but still has all the modern amenities to make guests comfortable.
Its terrace bar is just the right place to hang out with cool kids from all over the city and beyond as you enjoy striking views of Manhattan and the East River. Open all year round, the Ides adapts to colder days though it accommodates lesser people than during summertime. Reservation recommended if you are part of a large party.
5. Juliette
Williamsburg is definitely the place to find the coolest rooftop bars in NYC, like this elevated French bistro. An evening at Juliette is a summer break in a Parisian bistro, only with NYC's skyline as a bonus.
This bistro has an interesting wine and appetizer menu that suits all tastes and pockets. The roof deck is large enough for everyone to have a private quality place to take in the warm weather.
Yes, our pick of the top 5 rooftop bars in NYC turns out to be very European-oriented. See this list as an escape to the Old World without a pricey plane ticket — money you can invest in sampling food and drinks from around the world in the most heavenly decors. What is your favorite rooftop bars in NYC?