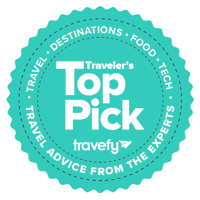 Expert recommendations on travel, destinations, food, tech and more.
Each week our experts put together one list of the best of the best of some of the top travel ideas and products out there.
Ireland is an enchanting island where legends and reality mingle in the most romantic landscapes on Earth. Visitors to the Emerald Isle can't pass on exploring its capital and largest city: Dublin.
Dublin is one of the easiest European cities to walk. And that is great because it bursts of things to see and do. From century-old castles and cathedrals to timeless distilleries and pubs, Dublin's stunning scenes will be the perfect setting for the trip of your life.
1. Phoenix Park
Originally a Royal deer park in the 17th century, the Phoenix Park is now the largest enclosed urban park in Europe. This historic landmark is over 1750 acres of green space embellished with tea rooms, biking trails, the Dublin Zoo, and even the President's official residence.
2. Dublin Zoo
While you are here, make a long stop at the zoo, it is worth it, even more if you have kids with you. The Dublin Zoo is one of the most popular attractions in the city. It is an institution dedicated to the "preservation of endangered species". Be ready to see a wide variety of animals from all corners of the planet.
3. Temple Bar
Cross the Ha'Penny Bridge to the south bank of the River Liffey. the Temple Bar is very much like NOLA's Bourbon Street; a party hub that is home to Dublin's most lively bars. People come to share pints of Guinness and to listen to spirited Irish tunes.
By day, the Temple Bar is an cultural and artistic quarter with all sorts of art galleries and venues. No doubt, everyone will find a reason to love the Temple Bar.
4. Trinity College
Founded in 1592, this college is Ireland's most prestigious college and Oscar Wilde's alma mater. And he is just one of this college's many illustrious alumni. Visitors come for the verdant campus, the gothic architecture, the Old Library and its most precious treasure: the Book of Kells.
When you visit, take a timeout to explore the Science Gallery, which is unlike any other in the world. Without a permanent exhibition, you are sure to never see the same things twice. It is also an open forum where profane and expert opinions collide.
5. St Patrick's Cathedral
Founded in the 13th century, St Patrick's Cathedral is, in many ways, an important Irish landmark.The cathedral has been the witness of a rich, oftentimes tumultuous, Irish history. Its facade and interior decorations make it an architectural jewel pleasant to behold.
But for a tourist perspective, its location in the center of Dublin makes it easy to add to any itinerary. It holds many choir concerts you wouldn't want to miss. Be sure to also visit the nearby Christ Church Cathedral, another popular attraction with a fascinating medieval crypt to explore.
6. The National Gallery of Ireland
One of the greatest things in the U.K. is that most museums (at least the permanent exhibitions) are free. It is the case in London and the same here. With over 2,500 paintings and twice as much other artworks, it'd be a shame to pass on this visit. Expect to see works from famous Irish artists as well as major European masters such a Picasso, Van Gogh, and Monet.
7. Dublin Castle
The massive Dublin Castle used to be a British stronghold overlooking central Dublin for over six centuries. But unlike other old fortresses like the remparts in Old Quebec, Dublin Castle strikes visitors by its lavishness.
You must see the Chester Beatty Library, the luxurious State Apartments, and the Record Tower. Take the guided tour to make sure you also hear everything about the history of the place.
8. Grafton Street
This pedestrian street links Trinity College to St Stephen's Green. Dublin's shopping district features boutiques as well as street entertainment. You are sure to find common brands just as much as unique items. For an exclusive shopping experience, head slightly off Grafton Street to Dublin's Powerscourt Townhouse Centre, a shopping center just as classy and Bond Street or the Avenue Montaigne.
9. Old Jameson Distillery
The old yet popular Jameson Distillery in Dublin is a reason people visit Ireland. The distillery tell the history of Irish Whiskey through that of its most famous brand. For a little less than $20, you could tour the Old Jameson Distillery and learn the hows of whiskey-making.
10. Guinness Storehouse
No name is more tied to Dublin than that of Arthur Guinness. The Guinness Storehouse is at the heart of the St James's Gate Brewery, its home since 1759. The Guinness Storehouse is a massive seven-storey building shaped like a pint. Each level tells the legend of the famed black brew. The top floor features the Gravity Bar where visitors can enjoy a breathtaking view of Dublin while sipping on the complimentary pint of Guinness. The view alone is worth the ticket price.
It is hard to limit your visit to these top 10 popular attractions. History buffs  must also discover the St Stephen's Green and Kilmainham Gaol while nature lovers would enjoy relaxing at Croke Park. And you want is your favorite Dublin attraction?
---
About Us
Travefy is a free, all-in-one travel planner that makes it easy to plan trips with friends and split travel costs. Discover 8+ million fun trip ideas, discuss and plan together. To learn more, visit Travefy and follow us on Twitter, Pinterest, and Facebook.