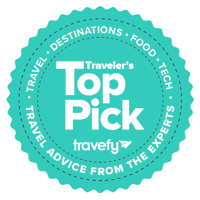 Expert recommendations on travel, destinations, food, tech and more.
Each week our experts put together one list of the best of the best of some of the top travel ideas and products out there.
New York City holds a special place in our hearts here at Travefy. Some of us grew up in the Big Apple, and others have visited so often, they consider themselves locals. So when I chose this concrete jungle as the place I want to explore in 2015, I had more than enough recommendations and tips from everyone. Here are 5 places I was told I must eat at during my visit. Why? I did some research I share with you above. Enjoy!
1. Steak at Peter Luger
A great juicy steak is always a good idea and Peter Luger's short loins are broiled to perfection. This family-owned steakhouse has been receiving accolades for the past three decades. It is considered the best steakhouse in New York and in the nation.
This American classic is well-known for the quality of its prime meat and their famous Old Fashioned Steak Sauce. the dinner or lunch at Peter Luger is definitely a must-eat.
2. Pizza at Grimaldi's
It is impossible to talk about New-York-style pizzerias without mentioning Grimaldi's. If you know the name of Patsy Lancieri, then you know Grimaldi's pizza is the original New York-style pizza. This pizzeria is an establishment and a landmark in the Big Apple. Their pizza-making technique remains true to the ways Patsy taught his nephew, making coal-oven-baked pies are among the best in NYC and across the nation.
3. Pizza at Artichoke Basil
There is nothing wrong with a pepperoni-and-cheese pizza, but if you want something different, then you want Artichoke Basil's. This pizzeria adds a little twist to the classics offering crab, artichoke, and Margarita pizzas. They are rather late comers on the NYC food scene but they already top local and national rankings. And best part; it caters to night owls and bar crawlers with its late night hours and fair prices.
4. Bagels and Whitefish from Russ and Daughters
The Whitefish and baked salmon salad is by far the most popular item on Russ and Daughters' menu. You can try the salad on its own or with one of their mouthwatering sandwiches it is added to. The salad is so popular that it now ships so you can make your own Super Heebster. Sounds interesting? Then here is the recipe for that.
5. Pastrami on Rye from Katz's Deli
Try the Pastrami on Rye and you will forget all your  New Year's resolutions about weight-losing. It is high on sodium and calories but every single mouthwatering bite is worth it.
The recipe seems so simple: pastrami between two mustard-coated slices of rye bread and pickles. Despite the simplicity, the juicy, smoky, and brined beef couples will become your addiction and favorite sandwich.
Did I miss your favorite food in NYC? Have any other place you would recommend? Tell us more about it in the comments below.